Tuesday, April 26, 2005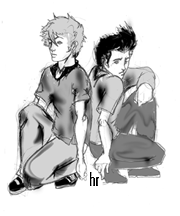 One December morning two years ago, I hastily checked e-mails, distracted by the thought of an upcoming final exam that was about to begin. I was preparing to take an eight-hour written test - which would decide my entire grade for a class.
Then, to make matters worse, it happened. I opened up the wrong e-mail. It was an e-mail I didn't expect, didn't want, didn't know how to deal with. A long-time friend unexpectedly revealed that he was gay. [Read article]

·
Mailbag
·
Editorial: Times piece accurately depicts UA
Latest Issue: April 26, 2005

Exploring the female orgasm: coming to the point
Her body curls and clenches with tingles of pleasure, a feeling some UA women have yet to understand or experience.
Regardless, if a woman is exploring with the different types of orgasms, masturbating, or learning how to get off without faking it, experts agree being comfortable is essential for achieving an orgasm.
Though some women may feel like a victim of orgasmic dysfunction, or the inability to climax during sex, experts said this diagnosis is rare for young women. Instead of needing medical treatment, college-aged women can usually find orgasmic relief from different methods of arousal and self-discovery. [Read article]


·
Commentary: Men and the orgasmic lie
Latest Issue: April 21, 2005

require('/home/webby/html/papers/98/polls/current.php')?>

showAds('bigbutton')?>






showAds('mediumbutton')?>


showAds('wildlinks')?>