Wednesday, July 6, 2005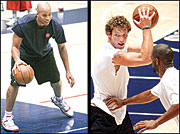 NBA stars gather at McKale Center
Just days after the New York Knicks selected Wildcat center Channing Frye and the Atlanta Hawks chose UA sharpshooter Salim Stoudamire in the NBA draft in Madison Square Garden, Tucson supplanted New York as the hotbed of NBA hoops – for one day, at least.
Current NBA stars Luke Walton, Richard Jefferson, Jason Terry, Mike Bibby and Andre Iguodala – who each graced the floor in McKale Center for at least two seasons over the past decade – took to Olson Court once again Friday afternoon in front of more than 1,000 fans as part of UA head coach Lute Olson's high school skills camp. [Read article]

·
Golf briefs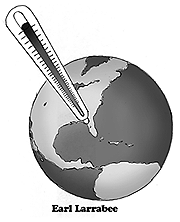 History was made by the 109th Congress on the 22nd of June. For the first time the Senate officially recognized the growing threat of global warming, declaring that action must be taken to address this problem by approving the resolution "Sense of the Senate on Climate Change." Going against the administration's policy of voluntary emission reductions, the Senate stated that mandatory cuts should be implemented to curb industrial pollution.
On that same day, another resolution was offered by Senator John McCain (R-AZ) and Senator Joe Lieberman (D-CT) that actually presented quantifiable limits on the emissions of greenhouse gases, such as carbon dioxide and methane, which effectively trap heat in the earth's atmosphere. Called the "Climate Stewardship Act," the measure, despite being far less stringent than the demands of the bitterly contested Kyoto protocol, was rejected by Senators who apparently can't keep their opinions straight. [Read article]

·
Skirting sanity in Europe
Latest Issue: July 6, 2005
Pissing one's pants at a museum is not a common occurrence. Then again, no museum has exhibited anything as menacing as Sleepytime Gorilla Museum, a Bay Area-based performance art band which might incite a little more than a loss of bladder control when they perform at Solar Culture on Saturday evening.
Watching the costumed multi-instrumentalists of SGM generate mouth-watering pandemonium with their adversarial lyrics and incomparable rock/semi-traditional rhythms is as frightful as it is awe-inspiring. [Read article]


·
'War of the Worlds' mediocre at best
·
This Week

showAds('bigbutton')?>






showAds('mediumbutton')?>


showAds('wildlinks')?>