Wednesday, January 26, 2005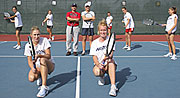 Athletes come from all over the globe, spend hours on the practice court in preparation for competition and learn from their fellow players who all bring something else to the cultural mix.
While this sounds like a night in Olympic Village, it also describes the Arizona women's tennis team, which features eight players all born in different countries.
Led by seniors Dianne Hollands of New Zealand, Maja Mlakar of Slovenia and the lone American-born player, Kelly Perry, the squad has been transformed into its own international community thanks to the recruiting efforts of fourth-year coach Vicky Maes, herself a former Wildcat recruited from Belgium. [Read article]

·
Men's Hoops: Big games not new to Wildcats
·
Women's hoops tries to avenge loss to ASU
·
Athlete Of The Week: Women's swim team welcomes 'fresh' face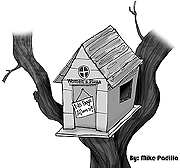 Youth. Maturity. Reflection. The Women's Studies department is sponsoring a memorial plaza that celebrates those three stages of a woman's life. On track to be completed this spring, the Women's Plaza of Honor "will be a warm, inviting and meditative gathering place" located between Centennial Hall and the Arizona State Museum South.
As the name suggests, the purpose of the Women's Plaza is to celebrate the lives and contributions of women to the state of Arizona. Donors can dedicate a brick, tile, tree, park bench or fountain to honor a woman of their choice. [Read article]

·
Guest Commentary: UA fans should take example from other schools, get creative
·
Mailbag
Latest Issue: January 20, 2005

require('/home/webby/html/papers/98/polls/current.php')?>

showAds('bigbutton')?>






showAds('mediumbutton')?>


showAds('wildlinks')?>