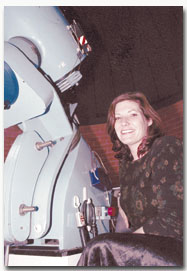 Alexis Faust will oversee Flandrau's move to Rio Nuevo
Alexis Faust has been selected to lead the Fladrau Science Center off the University of Arizona campus.
The UA College of Science announced last week that Faust, current interim director, will officially become the new Flandrau Science Center director on Oct. 30.
Faust, who has been acting head of the center since July 1, said she is very excited about the future of Flandrau.
"We have lots of plans," she said. "I'm very excited about directing Flandrau now on campus and excited about our future at Rio Nuevo."
UA Foundation gives $600K for class to invest

Stock market project to translate into real-life experience

About 15 students in the UA finance department's Applied Investment Management class will invest $600,000 of the university's money in the stock market Friday.

Pac-10 votes to revive basketball tournament

Olson, men against tourney; Bonvicini happy for publicity

Like it or not, March Madness is going to start a week earlier for the Arizona basketball teams beginning in 2002.

ASUA should pull the plug on Fall Ball

Don't get out your dancing shoes just yet.

During the first emergency Associated Students of the University of Arizona meeting in more than eight years Friday, ASUA President Ben Graff put Fall Ball 2000 on the chopping block because of low ticket sales [Read More]

'Sports Night' sees light of day again

A slave to ratings

Comedy Central has picked up the television show "Sports Night," and I am more excited than Donnie and Marie on Jolt cola.
Today in history: Tuesday October 24, 2000
In 1795, at negotiations for the third partition of Poland, the last Polish territory still independent is divided between Prussia, Austria, and Russia, and the country of Poland ceases to exist.
In 1901, daredevil Annie Edson Taylor initiates a famous stunt tradition when she goes over Niagara Falls in a wooden barrel.