Sunday, September 18, 2005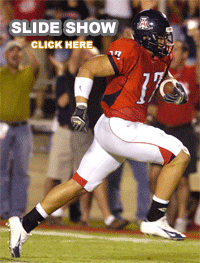 The Arizona football team lost 31-24 to No. 12 Purdue Saturday night in front of a sellout crowd at Arizona Stadium.
The Wildcats (1-2) played the Boilermakers (2-0) tough most of the game, but mistakes cost the team an upset win.
"I have nothing but praise and admiration for the team," said Arizona head coach Mike Stoops. "We lost to a very talented and well-coached team. I'm proud of the effort."
"This was a big win for us against a very good football team," said Purdue head coach Joe Tiller. "Arizona is a much improved team." [Read article]

Friday, September 16, 2005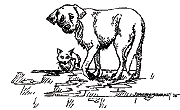 In the days after Hurricane Katrina, the city of New Orleans was flooded with more than water, as donations and offers of assistance poured from the people of America. Their response was, and continues to be, an amazing force of charity and concern. However, one group affected by the devastation has received much less aid and national attention, and those who would assist them struggle against time and finance to do so.
There are tens of thousands of dogs and cats still needing rescue from the city of New Orleans and surrounding areas. Many of these animals were well-loved pets that found themselves the victims of forced abandonment, as their reluctant owners were forced to flee. Dogs barked from rooftops, and cats roamed the streets or hid under furniture until rescue workers came to save them. Some of the surviving animals will never see their families again, but thanks to the efforts of many organizations, many of them will. [Read article]

·
Please don't feed the animals
·
When Mr. Bush went to Washington
·
Pass/fail: See if these ideas make the grade
·
Mailbag
Latest Issue: September 15, 2005
Latest Issue: September 13, 2005
The sun rose above the Rincon Mountains Sunday morning as the members of the Arizona Wildcat Off-Road club revved up for their annual trek to Chivo Falls.

The 60 club members and guests piled into 24 four-wheel-drive vehicles, ranging from stock pick-up trucks to jeeps.

These trucks are a source of passion for the men and women who make up the core of the group. Their vehicles all began as stock without modifications, but enthusiasts soon begin adding adjustments. [Read article]

require('/home/webby/html/papers/98/polls/current.php')?>

showAds('bigbutton')?>






showAds('mediumbutton')?>


showAds('wildlinks')?>