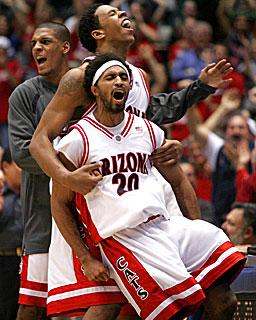 EVAN CARAVELLI/Arizona Daily Wildcat

Senior guard Salim Stoudamire (20) celebrates with senior center Channing Frye and freshman wing Jesus Verdejo (left) after scoring the game-winning 3-point shot against UCLA Saturday in McKale Center.

By Roman Veytsman
Arizona Daily Wildcat
Tuesday, January 18, 2005
Print this


UA squeaks by Bruins in revived rivalry

An inspired Salim Stoudamire sank the UCLA Bruins with a 27-foot 3-pointer to give the No. 13 Wildcats a 76-73 win in front of 14,559 fans at the McKale Center Saturday afternoon. With the score tied at 73, Stoudamire waved off a Channing Frye screen and was isolated against freshman guard Aaron Afflalo before pulling up from way outside the 3-point line and draining the jumper with 2.5 seconds left.

"I didn't have any doubt at all," Stoudamire said, "It depended on how he played me, and I saw him backing up."

Stoudamire's season-high 32 points came on the heels of an eight-point first half and being taken out of the game by head coach Lute Olson.

"I thought of instances where that happened in the past and I continued to let that affect me for the whole game, and then I just told myself you have to pick it up from this point, and I did," he added.

Stoudamire's cousin Damon poured in 54 points the night before for the Portland Trailblazers, and that caught Salim's eye as he watched the game.

"That definitely inspired me," Stoudamire said.

The 32 points, including 11-of-16 from the field and 4-of-7 from 3-point range, were the main reason the senior point guard was named the Pacific 10 Conference Player of the Week.

The Bruins played tight defense on him all day and forced him to drive and pull up for mid-range jumpers, except on the last play.

"Coach (Howland) told me to give him any space and make him drive," Afflalo said.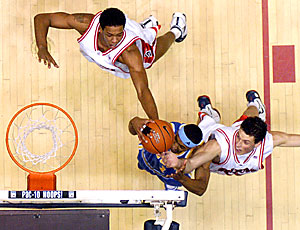 CHRIS CODUTO/ Arizona Daily Wildcat
Channing Frye (left) and Ivan Radenovic attempt to grab a rebound over UCLA's Dijon Thompson during Arizona's 76-73 win over UCLA in McKale Center Saturday night.
On the last shot though, Afflalo said he wanted to give Stoudamire a little space because he was 30 feet out.
After Stoudamire's 3, the game took a few bizarre turns as Hassan Adams stole the ball, and the Wildcat bench thought time expired, running onto the floor. The referees assessed a technical foul to the Arizona bench with one second remaining, and UCLA guard Jordan Farmar missed a couple free throws to keep the score at 76-73.
Adams then went to the line to shoot his two free throws from a foul committed after his steal but also missed both. A UCLA heave off the rebound did not come close and the game was over.
The Bruins led throughout the first half, leading 42-38 at the break and shooting 61 percent from the field. Dijon Thompson scored 27 points for the Bruins and shot 6-of-6 in the first half. Defensive adjustments helped Arizona hold UCLA to just 26.7 percent shooting and only 31 points in the second half.
"Defensively, we really stepped it up," Olson said. "We started doubling the screen up high and when we did that, we basically cut the penetration off. (We) told anybody whose man set a screen on Dijon Thompson, to switch immediately so we made him go out a ways to catch the ball. We did a much better job of communicating what we needed to do defensively."
The Wildcats were down 58-54 when sophomore guard Mustafa Shakur dove over the media table and saved the ball, leading to a Stoudamire 3-pointer. That play gave Arizona momentum and sparked a 14-3 run.
"I just saw the opportunity to get the ball and just went for it," Shakur said. "I wasn't worried about where I was at. I've been there many times - it's just like being outside and playing on the playground."
Arizona also received support from Ivan Radenovic who had eight points and a career-high 14 rebounds on 4-of-7 shooting from the field. Radenovic found himself guarding Thompson, a tough matchup for the 6-foot-10 power forward from Serbia-Montenegro.
"In the first half he was very fresh and really excited playing against Arizona," Radenovic said. "After each point he made, he said something like 'I'm the best, I'm the best.' In the second half, he was probably tired, and it was an easier job."
Arizona was out-rebounded by UCLA 41-37 and out-shot 43 percent to 41 percent, but still came away with a victory.
In his second game, Kirk Walters played 17 minutes and tallied five points and five rebounds, to go along with two blocked shots.
"You can see why we brought Kirk Walters out of redshirt," Olson said. "I thought he did a really good job for us."
With Walters, Radenovic and Channing Frye, who scored 15 points, all playing well, Arizona's effort was collective, with Stoudamire leading the charge.


Write a Letter to the Editor