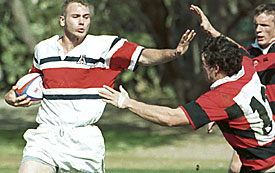 ERIC M. JUKELEVICS/Arizona Daily Wildcat

Sophomore wing Pat Marek stiff-arms an opponent in a match earlier this season against Utah at Estevan Park. The Arizona ruggers open conference play this weekend with a pair of home matches, beginning today at 4 p.m. against UC Santa Barbara.

By Charles Renning
Arizona Daily Wildcat
Friday Feb. 8, 2002

The Wildcat rugby team will open its 2002 SoCal Conference season this weekend when it meets UC Santa Barbara today at 4 pm and Cal Poly San Luis Obispo on Sunday at noon. Both matches will be played at Estevan Park and will have major implications for the Wildcats' season.

Because of the way the SoCal Rugby Conference is set up, only two teams will make the postseason tournament, so every conference game is a must-win.

"There is very little margin for error in this conference," said head coach Dave Sitton. "I can't remember the last time a team went into (the playoffs) with two losses."

Sitton stressed the importance of his team getting off to a good start and winning both games.

However, the Wildcats (2-4,0-0) are in a position they haven't been in for more than 15 years: The team is entering conference play with an overall record below .500 and, to make matters worse, are riding a three-game losing streak as well.

"We have to take better advantage of the ball and our attacking opportunities," Sitton said.

The Wildcats will be looking to turn things around against UC Santa Barbara (0-2-1), which has failed to win a conference game this season in three tries and is coming off of a loss last weekend to San Diego. UCSB has a slight edge over UA in the all-time series (11-10).

Cal Poly (8-1, 0-1) is coming off one of its best seasons ever: last year when they made the round of 16 at the national championship tourney.

The Mustangs are doing more of the same this year with their only loss this season coming to San Diego State last weekend. UA holds a slight edge in the all-time series against the Mustangs (12-11-1).

The Wildcats will enter both matches a little banged up on their front line. Senior center Waisale Sallas will be out for the weekend, while senior prop Joe Schmitt will be playing with an injury he received two weeks ago.