Wednesday, January 11, 2006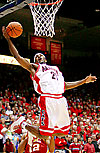 Men's basketball winter recap: Cats storm to 8-1 record over break
Men's hoops starts conference play 3-1
Over the past month, the Wildcats have turned the corner after a shaky 2-3 start to put themselves in the thick of the conference race and back into the national rankings.
No. 24 Arizona (10-4, 3-1) reeled off an 8-1 run over winter break and now sits in a three-way tie with No. 11 UCLA and California for first place in the Pacific 10 Conference.
Arizona knocked off Southern California 74-63 in McKale Center Saturday to salvage a split during this past weekend's homestand. [Read article]



A SLICE OF BACON: Chips and Hot Sauce
I hate to be one of those boastful kids who brag about something others can't help, but to completely appreciate the evolution of Hassan Adams, you have to have been here all four years (or be a T-loc who followed him).
The kid came to school with "SportsCenter" Top-10 stamp Andre Iguodala as one of the best one-two recruiting punches in recent history, and to my knowledge was a 6-foot-4 pogo stick who had a rusty jumper and had recently lost to Amaré Stoudemire in the McDonald's All-American dunk contest. [Read article]




Women's basketball winter recap: 'Frustrated' Cats left licking wounds after break
Injuries add to woes in losing streak
It wasn't exactly a winter wonderland for the Arizona women's basketball team over winter break.
Hampered by injuries, poor rebounding, and a tough schedule, the Wildcats (5-10, 1-4 Pacific 10 Conference) dropped seven games during the eight-game stretch.
They also found out that guards Linda Pace, a junior, and Rachael Schein, a sophomore, will both miss the rest of the season due to injuries. Pace, a 5-foot-9 native of San Diego, was averaging 5.4 points, 3.5 rebounds and one steal per game before tearing a meniscus in her left knee. [Read article]




Winter sports recap: Cats denied Final Four berth
Nemesis Santa Clara tops Arizona again despite seniors' efforts
Although the Arizona volleyball team ultimately came up short, falling to Santa Clara in a five-game battle in the Elite Eight on Dec. 11, the squad was the best UA head coach Dave Rubio had seen in four years.
"It really is one of the best teams I've ever coached," Rubio said. "It's just unfortunate that we weren't able to get to the Final Four. Certainly we were close. It certainly ranks as one of the top teams for me." [Read article]




Football recruiting: Top-ranked juco prospect commits over winter break
Scottsdale lineman Holmes signs on to finish college career with Wildcats
Christmas came several days early for Mike Stoops and his staff — 10 days early, to be exact.
Louis Holmes, a highly sought-after junior college defensive end from Scottsdale Community College, announced that he would be continuing his football career in Tucson at a press conference in Scottsdale on Dec. 15.
The nation's consensus top-ranked junior college player and a five-star prospect according to recruiting Web sites www.rivals.com and www.scout.com, Holmes made it official a week later when he signed his letter of intent to play his last two years of college football for the Wildcats [Read article]




Men's basketball notes: McClellan close to return
Sophomore expected to rejoin team against Beavers tomorrow
This week marks the long-awaited return of one of the Arizona men's basketball team's top performers from a season ago.
The Wildcats have a 3-1 record in Pac-10 play, a mark Olson said he is happy with during the absence of sophomore guard Jawann McClellan, who was suspended from the first 14 games of the season for academic eligibility. [Read article]




Icecat losses pile up
Club hockey endures 5-game slide
The No. 12 Arizona men's club hockey team's season cooled off with the weather as it lost all five of its games over winter break.
The losses dropped its record to 10-8 on the season.
The Icecats' struggles were exemplified by their play at the ASU Desert Classic in Tempe.
Arizona lost to host ASU 3-1 Sunday as the No. 9 Sun Devils won their fourth game of five the two teams have played this season. [Read article]




Winter sports recap: Juniors nab preseason honors
Shortstop, pitcher earn All-America third-team nods
Two baseball juniors have earned preseason All-America honors from Baseball America.
Shortstop Jason Donald received second-team honors and pitcher Mark Melancon earned third-team recognition.
"I'm pleased for both of them," head coach Andy Lopez said in a press release. "Jason and Mark have already accomplished so much during their careers here and the recognition is well deserved. They're our team leaders this year and will play a huge part in our success." [Read article]




Winter sports recap: Gymnastics takes fifth in Cancun
Cats score high on uneven parallel bars
The Arizona gymnastics team finished in fifth place at the Cancun Gymnastics Classic Friday.
In their season-opener the No. 17 Wildcats (192.925) placed last behind No. 1 Georgia (195.650), No. 9 Stanford (194.850), No. 21 Denver (193.850) and No. 10 Oklahoma (193.325) in Cancun, Mexico.
Arizona found the most success on the uneven parallel bars, backed by junior Aubrey Taylor's fourth-place score of 9.800 and sophomore Danielle Hicks' 9.775 as the Wildcats scored 48.750 in the event. [Read article]




Winter sports recap: Swim and dive stay undefeated
While many of the rest of Arizona students were still taking solace in the last weekend of break, the Arizona swimming and diving teams were taking back to the pool.
The men's and women's teams, both ranked No. 5, maintained their flawless records Friday.
The men (3-0, 2-0 Pacific 10 Conference) beat Washington 145-116, while the women (5-0, 4-0) defeated No.23 Washington 168-87, beat Oregon State 172-83 and drowned Northern Arizona 201-93. [Read article]




Soccer's Miller invited to elite U.S. U-21 squad
All-American one of 30 to train for Nordic Cup
Arizona soccer player Mallory Miller received an invite from the U.S. Under-21 team to participate at the Women's National Team Camp in Carson, Calif., Jan. 14-21.
"It's an opportunity that most people do not get to have," Miller said in a press release. "I'm just going to go out there and do the best that I can. I want to make the most of this chance and have fun while doing so." [Read article]




showAds('bigbutton')?>







showAds('mediumbutton')?>

showAds('wildlinks')?>