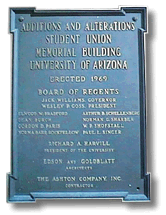 Student
Union
Renovation/Expansion
Referendum
Information

Students have voted to
F A I L
the Student Union Referendum
The vote is in:
Out of 4413 total votes,
3,168 students voted NO
1068 voted YES

---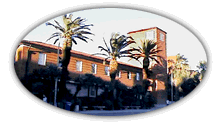 In November, University of Arizona students will decide whether or not to add an additional $40 in student fees to fund renovations to the Memorial Student Union. The total project cost is estimated at $70 million, half of which would be paid through the proposed fee increase.
Students will vote Nov. 18 and 19

---

Here is the new referendum text.
(The old version is still available):
---
The proposed Student Union/Bookstore renovation and expansion will:
be partially funded by a mandatory fee, not to exceed $40 per semester assesed to all University of Arizona students. The fee shall commence in the Spring semester 1999;
the student fee shall not exceed 50% of total project costs;
this fee shall end at the completion of bond payments, not to exceed 25 years;
expenditure of fee shall be monitored by a student advisory group;
no academic bonds shall be used in this project as to increase tuition;
the student fee board and the UA Administration shall review within one year from the passage of this referendum all fundraising efforts. If sufficient effort in fundraising exists, the student fee will begin. If however, the student fee board feels less than sufficient effort has been made in fundraising; the fee will be reduced by an amount agreed upon by the student fee board;
Based on student input to date, this fee will provide for:
increased size bookstore with space for general books, computer sales and supplies, and check out;
post office, banking, and other retail services;
food facilities including a food court with national and local branded food options;
multi-purpose space for student organizations
functional layout utilizing atriums, increased lighting, indoor-outdoor eating and programming space, increased meeting areas, lounge and study areas;
space for student radio and publications;
accessibility for all students;
computer network access in lounge, study and food service areas.
A portion of the fee will be applied to programs:
increased activities including concerts, speakers, comedians and other entertainment;
increased multi-cultural programs and activities, leadership training and service learning opportunities

Previous referendum-related articles:
---
November 20 - The results are in:
---
Last day of voting - November 19, 1997
---
Fist day of voting - November 18, 1997
Previous articles:

What people are saying about the proposed fee increase...
---
Send us your comments on the referendum...
---